Your verification level determines what you can do with your OVEX account.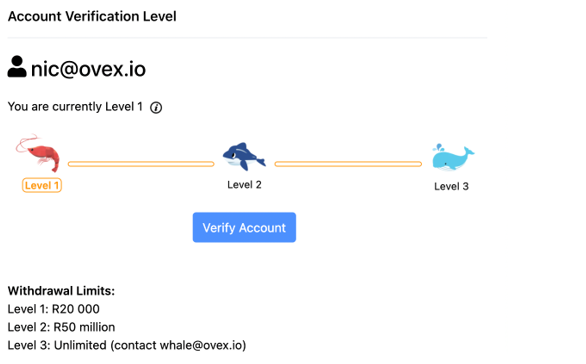 The amount that you can trade as well as your withdrawal limits are fixed until your account is verified.
To verify your account:
Login to the OVEX portal
On your account dashboard within the tile – 'Account Verification Level' – click on the button 'Verify Account'
Select your account type: Personal or Corporate
Answer the typeform questions and submit the relevant documentation
Corporate Accounts will need to verify their Entity Information as well as upload Entity Documents
Personal Accounts will need to verify their Identification as well as Proof of Address (POA)

Required:

A photo/scan of both the front and back of your ID card
A POA scan in the form of a recent utility bill or bank statement
A selfie of you holding your ID. The photo must be clear and the ID legible

If you are having issues uploading your verification documents on the portal – please email them to support@ovex.io
PLEASE NOTE: It is NOT necessary to verify your account if you have applied to or are going to apply for the OVEX Arbitrage Service. Account verification is an obligatory step in the application process for our Arbitrage Service and we will request verification documents regardless of whether your OVEX account had been verified previously.