WHAT FIAT DEPOSITS DOES OVEX ACCEPT?
ONLY ZAR deposits are accepted at OVEX for the time being
WHAT CRYPTO DEPOSITS DOES OVEX ACCEPT?
OVEX accepts crypto deposits for all digital assets listed on the exchange. You can find the supported assets listed on OVEX here: https://www.ovex.io/listings
WHAT POP (PROOF OF PAYMENT) IS ACCEPTABLE?
OVEX does not accept bank issued Proof of Payments. The only POP accepted at OVEX is an official interim banking statement showing the transfer of funds from the clients account into OVEX's account
HOW DO I ACCESS AN INTERIM BANKING STATEMENT FROM MY BANK?
Accessing an interim banking statement from your bank as a POP is simple. All South African banks are obligated to provide clients with interim banking statements at the clients' will. Most banks facilitate this process directly through their respective banking apps.
Depending on whom you bank with – the process may differ slightly. Please consult the following videos tutorials from the below respective banks on how to retrieve an interim banking statement:
ABSA
https://www.youtube.com/watch?v=qFuPCdKgU94
NEDBANK
HOW DO I DEPOSIT SOUTH AFRICAN RANDS (ZAR) INTO MY ACCOUNT?
Place mouse over the 'Wallets' drop-down bar and select the 'Deposit' option

Select 'South African Rands (ZAR)' from the drop-down bar

Select your relevant bank from the drop-down options

Make a regular bank transfer (EFT) to the bank details on display. Take note of the SN reference number. It is crucial you use the correct reference with your deposit.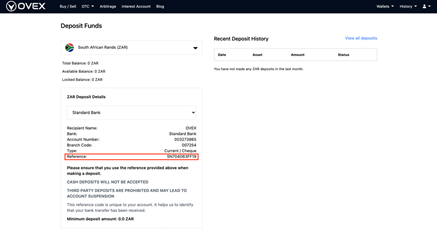 NB!!: It is imperative you include, with your ZAR deposit, your unique OVEX SN Reference. This reference is unique to your OVEX account and must be added as the beneficiary reference for every OVEX deposit. If you forget to add the reference, OVEX has no means of knowing exactly to whom said deposit belongs.
WHAT ARE THE DAILY/MONTHLY DEPOSIT LIMITS?
There are none
IS THERE A LIMIT TO THE NUMBER OF TIMES I CAN DEPOSIT?
There is no limit
CAN I DEPOSIT FROM A FOREIGN BANK ACCOUNT?
Please note that international deposits aren't allowed. Deposits should come from a bank account registered in South Africa